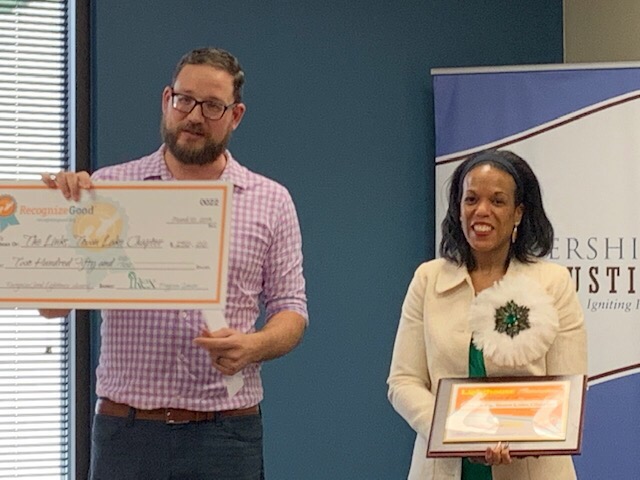 The Town Lake (TX) Chapter of The Links, Incorporated was honored to receive the 22nd Lighthouse Award on March 10, 2019, from RecognizeGood Executive Director Joel Coffman, for the chapter's exemplary contributions in enriching the Austin community for 31 years. RecognizeGood cited the Town Lake (TX) Chapter's dedication to enriching Austin's education and culture through partnerships with education and mentorship organizations for young women and children, along with the chapter's annual fundraising efforts to support $20,000 annual scholarships, AISD-Bertha Sadler Means Young Women's Leadership Academy STEM initiatives, the Central Texas Food Bank and their backpack program, as well as NAMI Austin (National Alliance on Mental Illness). 
The RecognizeGood Lighthouse Award recognizes the selfless community efforts and philanthropy of Austin-area service clubs. RecognizeGood is a local nonprofit that provides a means for individuals, businesses and other nonprofits to illuminate selfless volunteers, charitable acts and community service throughout the greater Austin area.  By highlighting "special" organizations, RecognizeGood inspires others to make our community a better place. Award nominees are voted on by a selection committee according to the following criteria: length of service, magnitude of service, and special one-time event.
The Town Lake (TX) Chapter is proud to receive the Lighthouse Award for philanthropy in the Austin area. Please visit RecognizedGood at www.recognizegood.org to learn more about the non-profit organization's history, mission, and previous Lighthouse Award winners.