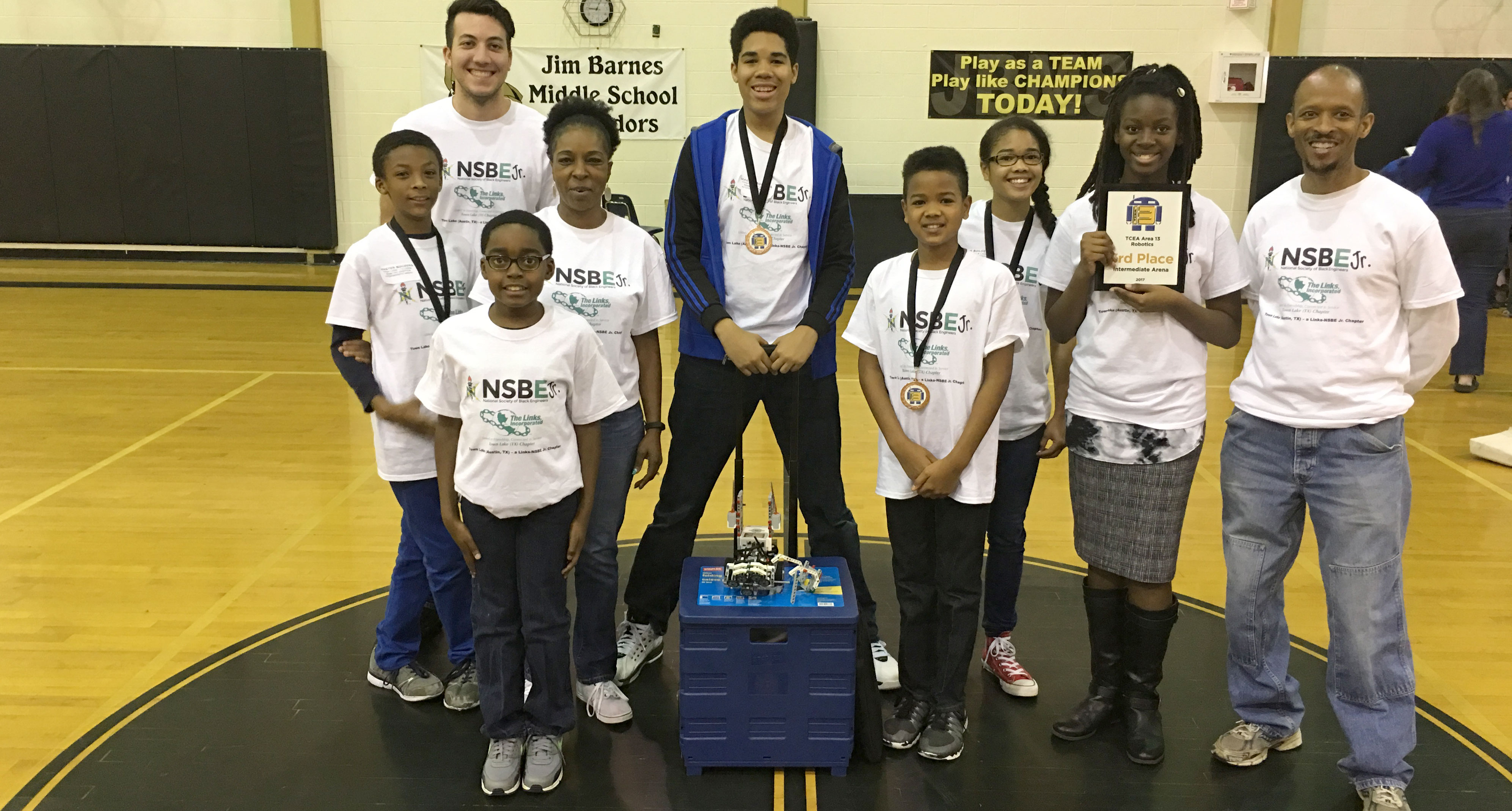 The Town Lake (TX) Chapter's newly launched National Society of Black Engineers Jr. Chapter placed third of 38 teams in its very first competition, the Texas Computer Education Association (TCEA) Robotics Arena Contest held in Seguin, Texas in January. With no assistance from adults, Team Master Builders used LEGO EV3 motors and sensors to build a robot that performed multiple tasks on the challenge field.
The team, which includes 5th through 8th graders,  prepared diligently after school and on Saturdays at HBCU Huston-Tillotson University with the help of Town Lake (TX) Chapter members and community volunteers. The advisors and coaches include Town Lake Chapter STEM Lead Veronica Jordan-Matlock, Daphne Octave, Kizzy Lejay, Danielle Broussard Carroll and two community volunteers, Ronald E. Bell II, Ph.D., LBJ Early College High School, Austin, Texas and Spencer Rueter, Application Engineer, National Instruments.  
The collaboration, innovation, and creativity the team practiced is central to the engineering process and allowed the team to rebound after a challenging second round.  The design concepts, critical-thinking skill and problem-solving training they gain through NSBE Jr. and associated competitions will serve them well in school and beyond. Robotics, in particular, allows children to learn actively and make things happen.  
The Town Lake (TX) Chapter raises funds and awareness for its STEM programs through events like a recent advanced screening of Hidden Figures at the Austin Moviehouse Theatre. The January preview sold out in 36 hours and attendees shared a memorable and emotional evening recounting the experiences of the African-American mathematicians at NASA.  The chapter also took groups of disadvantaged youth from local schools and children's homes to see the inspiring film.
We know that our young STEM program participants have the potential to excel in the science and engineering fields and are delighted to provide the instruction, mentorship, and opportunities they need to build and demonstrate their skills.
The photo shows Town Lake (TX) Chapter NSBE Jr. advisor Veronica Jordan-Matlock, Josiah Bell, Reid Holliman, coach Spencer Rueter, Sam Hill, Braylon Hill, Zoey Hill, Carrie Agboga and coach/advisor Ronald Bell.