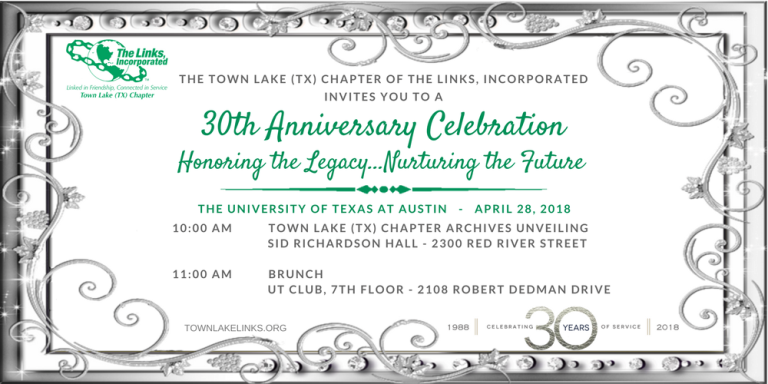 The Town Lake (TX) Chapter of The Links, Incorporated is excited and thrilled to invite you to our 30th Anniversary Celebration, "Honoring the Legacy…Nurturing the Future".
The Town Lake Chapter was chartered on April 30, 1988, as the Round Rock Chapter of The Links, Incorporated with twenty-nine members.  The chapter was committed to service and commenced with their first fundraising effort, a Tea Dance, that benefited the African Water Wells Project through Africare. The Round Rock Chapter became part of the South Central Texas Cluster which hosted the 1993 WA Conference in Austin. In 1996, The Links, Incorporated granted the Chapter's request to change its name to Town Lake.  The signature fundraiser became Mardi Gras Madness, which we continue today, where proceeds support scholarship grants and other community service programs.
Our celebration will be held on Saturday, April 28, 2018, starting at 10:00 am with an unveiling of our archives, which will be housed at The University of Texas at Austin.  We will then proceed with a brunch celebration at 11:00 am at The University of Texas Club on the 7th floor.  Tickets are $75 per person and can be purchased online at bit.ly/TLL30  or by check, made out to the Town Lake Chapter, and mailed to P.O. Box 26395, Austin, TX  78755-0395.
We look forward to seeing you at our 30th Anniversary Celebration!